MrM®: Multicom's Unique Solution for Providing True 24/7 Proactive Monitoring and Intervention - Making Hospitality HDTV Easy
How do we do it?
Multicom has developed a proprietary IP-based monitoring and correction system which interrogates every channel in the Mpro-HD® system every minute of every day in order to:
Detect errors
Provide automatic corrective action
Send predetermined electronic notifications

What does it do for the venue?
The guests receive error-free continuous TV programming
No set-top boxes are needed when an HD Pro:Idiom®-enabled TV set is used
Eliminated trouble calls to the front desk


MrM® - Multicom Remote Monitoring Services
Mpro-HD® and Multicom Remote Monitoring (MrM®) services include remote status and Quality of Service monitoring and servicing, including "virtual truckrolls", from the Network Operations Center In North America.
24/7 Active Monitoring: Minute-by-minute current status and history for ALL of your Mpro-HD® hotel systems
24/7 Issue Resolution: Nearly all issues resolved remotely and automatically
Web Portal and Smart Phone: 24/7 Hotel System Status in the palm of your hand
Historical data and graphs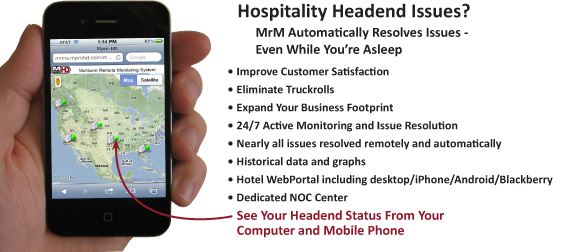 MrM® Flyer
MrM® - Multicom Remote Monitoring Services Offered

MrM® Services Flyer